High-End, Hidden Technology for Your Properties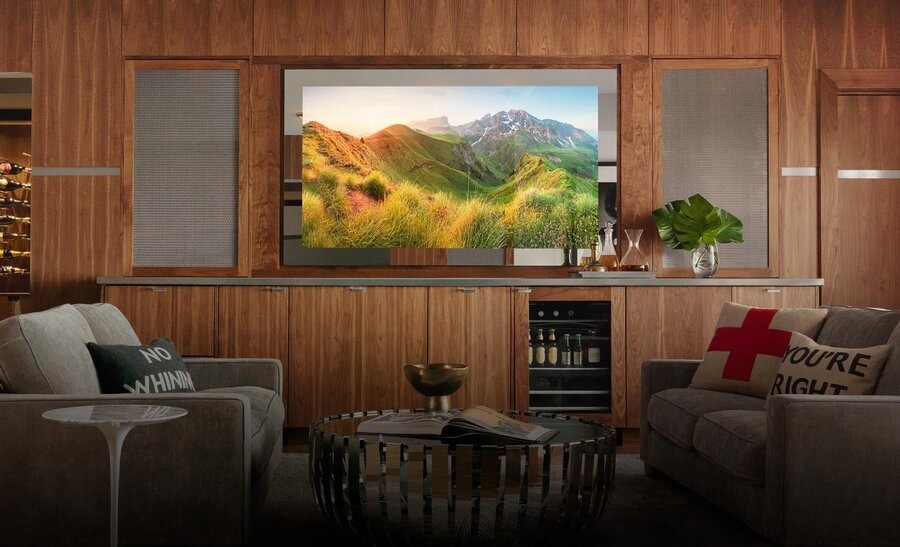 Match Your Clients' Aesthetics with Beautiful, Seamless Solutions
If you're an interior designer or architect, you know how much the design and aesthetics of a living space impact homeowners. While added smart solutions like whole-home audio-video can bring a much-needed ambiance to a home project, it can be daunting to figure out how these additions won't intrude on your design setup and plans.
However, hidden technology solutions are the perfect way to combine optimal functionality and personal style. In this blog, we'll explore how trusted brands like Séura and James Loudspeaker products deliver high-end video and sound performance while still maintaining the existing design setup in your clients' homes on Martha's Vineyard.
Keep reading below to find out more!
SEE ALSO: Check Out Our Control4 OS 3 Video Tutorials!
Stunning Séura Screens
When the family room or multi-purpose media room TV is shut off, homeowners are often left with a bleak-looking black box sitting aimlessly in the space. While this isn't necessarily an eyesore, it can still cause a rift with your planned design and décor – especially in more elegant rooms or multi-purpose spaces.
Séura TV Mirrors are the perfect hidden technologies for any property's AV distribution setup. Blending in seamlessly, these TV displays have a place throughout a variety of areas in the home. Vanity TV Mirrors can appear from nowhere on the mirror surface in the upstairs master bathroom or the dressing room, letting homeowners check the weather, view the news, or catch up on a show as they get ready for the day or before winding down for bed.
Now, the Séura Entertainment TV Mirror lets you bring style and luxury to a room's design while still guaranteeing a top-performing display. With a tap of a button, the TV can switch from a sophisticated mirror to the latest hit TV show or family-favorite film. Adding the perfectly tasteful touch to any room, this Séura screen is the perfect hidden feature to please both practical and desired design needs.
James Loudspeaker In-Wall Speakers
Whether for a multi-purpose media room, private home cinema, or dedicated listening room, high-end speakers do not have to intrude and crowd an entertainment space. Standing loudspeakers can add to a room's ambiance and atmosphere, but many homeowners would rather hear their music and media instead of seeing where it's coming from.
With James Loudspeaker, you can experience high-performance sound from in-wall speakers and solutions. As part of a home theater system, stereo system, or whole-home audio setup, speakers in various sizes can work for the required design plan. In-wall soundbars can mount below the TV display, going without notice, but delivering an incredible performance every time. In-ceiling speakers are also inconspicuous, providing that overhead surround sound for a movie or TV show viewing.
These speakers are also ideal for audio distribution that brings media to smaller and harder-to-reach areas, such as hallways, bathrooms, and laundry rooms. Now homeowners can enjoy whole-home audio without worrying about large, intrusive speakers taking over a space or interfering with their preferred design.                                                                                                              
Want to find out more about hidden technology and how brands such as Séura and James Loudspeaker can help piece together your design plans for your clients on Martha's Vineyard? Give our team a call or fill out our online contact form here. We look forward to hearing from you!
Stay Informed
When you subscribe to the blog, we will send you an e-mail when there are new updates on the site so you wouldn't miss them.